Hi!
Okay, so the subject line was a little forceful.

But I do think there are a lot of guys who aren't having as much sex as they could be having.

It's not because they're oafs or weirdos. It's because they don't realize they're doing things that kill the seduction.

I'm not talking about chewing with their mouths open (though don't do that) or saying her friend is ugly (why would you even go there?)

I'm talking about the subtle stuff that makes her feel less desirable, makes her feel less interested, and makes her decide to take a cab back to her place - alone.

I often give advice on how to have better sex, because I want people to really bring their A game to every fuck session.

But that starts with actually getting past first base. So this week, I wrote about the little things to avoid if you want to get a chance of showing her a really good time.

I also wrote about jackhammer sex (because there's nothing wrong with a really good pounding), why "porn for women" is bogus, and about giving my kids a real sex talk for the first time.

And this week on the Pillow Talk podcast, I played WickedWhims. That's a Sims 4 mod that adds nudity and hardcore sex to the game. Check it out if you want to hear me marvel at the beautiful bouncing tits, sensual shower handjobs, and top notch prone bone anal.

Enjoy!

Love,
Emma
---
My Latest Medium Posts
These are the articles I published this week on Medium. They're all Friend Links so you can read them even without a Medium Membership.
---
New on Love, Emma
I've been sick this week, so I haven't uploaded anything new to Love, Emma.

Instead, check out my post on penis massages. It's one of the most popular on the site.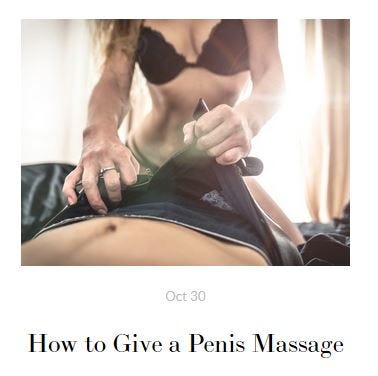 ---
New Episode of Pillow Talk with Emma Austin
Ever wish the Sims were just a little... sexier?

I did, so I got WickedWhims. It's a Sims 4 mod that jazzes up the game with plenty of hardcore sex.

In this episode, we perv over the game and its surprisingly arousing animations. We talk about bootjobs and physically improbable sex positions. We go over our plans for backyard sex. And I discover that no matter how hard I try to open up my marriage, I always end up just fucking my husband - even in a video game.
---
Something Spicy
I love, love, love sexual experimentation! Trying (almost) anything new in bed is always fun.

I also get really aroused by other people trying new things. Taking young guys' virginity (don't worry, I was their age) was so exciting I could've made a hobby of it.

In some of my erotica, the protagonist gets to try something new. She fucks a sex robot, sucks cock in front of a group of strangers, or gets railed by two guys in a train car. (Okay, those last two were me - I told you, I like trying stuff!) But once I wrote a story where the protagonist helps someone else try something new.

Enjoy!


Shawn has been Sam's best friend since high school, but they've never crossed this line before.

After a string of bad hookups, Sam is looking for a guy who can really satisfy her.

Shawn is almost the perfect candidate. There's only one problem: he's gay and just as boy crazy as Sam is.

Shawn is spending the weekend with Sam, and she's going to see just how far she can convince him to go with a woman for the very first time.
---
Connect With Me!
Want to connect with me? Check me out on social media.

For original photography, some fun stuff, and a weekly podcast preview, follow me on Instagram!

I'm also active on Twitter.

And of course, be sure to follow me on Medium!